10 Jun 2021 🔖 web development jamstack
💬 EN
Fact: My Huong Kitchen on "Eat Street" in Minneapolis (Nicollet Ave) has the best bubble tea in the Twin Cities, Minnesota, USA region. Not just on Eat Street. You get to watch fruit go into your blender for a smoothie, not boba powder.
The savory food is also delicately well-flavored, in case you care about more than your sugar rush.
In other words, if you mess with this teeny-tiny gem of a restaurant, hiding in its adorable hole in the wall, you've picked a fight with me.
By the way, if you want to do me a big favor, please go buy something, and tell the owners Katie sent you!
What happened
When I needed to run some errands in Minneapolis this March, I planned my circuit of stops around the restaurant's hours, because taro boba was calling my name. There was just one problem: I noticed different phone numbers and web sites between my hours-check one day and my directions-check the next.
I've been listening to local SEO podcasts for a year or two now. Through them, I'd learned about the world of "rank-and-rent" search engine optimization ("SEO") and Google My Business ("GMB") hijacking. I was terrified that I was witnessing the victim of a major scam.
After all, the unofficial web site, minneapolisvietnamesefood.com, had been registered in April 2020. The timing (was someone really preying on a small Asian-American business's pocketbook at that point of the pandemic?) got me particularly agitated.
When I picked up my smoothie & banh mi, I asked about the second phone number, and they said they'd gotten a cold-call promising all sorts of extra business for a monthly fee, sort of like the way Yelp asks for extra money to promote your business. We arranged a time for me to come over & help look through the digital records and see if things were on the up-and-up.
Long story short: it was not a scam, per se. More comparable to an auto mechanic that does a very good job repairing your car but always tells you that things need fixing that probably don't actually really need fixing yet.
The company was called AdIQ, and yes, they use a "rank-and-rent" sales model, and I'll always resent them for cold-calling restaurants in the depths of a pandemic with luxury services (restaurants needed online ordering systems, not AdWords, in April 2020). BUT … they provide amazing customer service once you're on the hook, and they gracefully made it a real pleasure to leave.
The GMB listing pointed to the auxiliary properties because:
they know their SEO and had managed to rank minneapolisvietnamesefood.com higher than myhuongkitchen.com, the official web site
they were spending part of the monthly fee taking out Google AdWords and wanted to be able to track success, and didn't have access to edit the Google tracking of the official web site
Similarly, they'd changed the phone number on the GMB as part of a service upsell where they rent you a phone number and you get to go back and listen to your old phone calls through their web portal. Plus, it accepts text messages.
They hadn't created a GMB without the restaurant's consent – they'd just gotten added as "managers" and had tweaked it. The GMB was already safely within the restaurant's control, I realized during my audit.
Learning that the situation was simply a question of analyzing, "Is this 3rd-party service still worth the money?" rather than one of, "Are you okay? Are you being scammed?" was a major relief. One that made me, quite honestly, really embarrassed I'd caused a fuss in the first place.
Deciding to leave
But I guess I'm an embarrassed webmaster who gets free bubble tea when I can make it to town.
That is not a life decision I expected to make, but here I am. For now.
Once I'd gotten off my first support call, it was time to decide if they were worth the price. I sat down with the owners and we did the math of how many additional customers per week would need to come into the store year-round to justify it.
It seemed worth discontinuing the services and seeing how things went with DIY digital presence, because although it was of course hard to tell in a pandemic, there wasn't a sense that contracted digital services were adequately boosting the numbers of feet in the door.
So I started packing the digital bags.
Landing page
One of the good features of this not-so-scammy-after-all rank-and-rent business is that if you've been a paying customer for 12 months or more, the landing page domain name that they ranked and rented to you is yours.
Obviously, I wouldn't normally advise paying this kind of money for a landing page domain name when they cost $10 each.
However, what I really didn't want was to say, "Hey, this looks fine for you to cancel" and wake up the next day to see Quang substituted for My Huong Kitchen in minneapolisvietnamesefood.com and all of the phone number's traffic ringing the massive, well-known restaurant across the street. To a certain extent, once you're in with a rank-and-rent business, you kind of keep paying so they don't rent to anyone else.
Finding out, when I asked how much it would cost to buy the domain off of them, that it was already included for free, let me breathe a massive sigh of relief.
Steve, the quality assurance manager, even called me and spent half an hour with me walking through all the steps I'd need to take, like having a page of my own hosted and ready to go, since the technology through which they'd initiate a domain ownership transfer would kill their hosted content from the internet.
So:
I built a quick landing page myself with 11ty and Tailwind UI, imitating all the techniques I'd seen in their ranked site, and threw it up on Netlify.
I talked Minnesota guitarist Robert Bell into letting me experiment with Netlify custom domains by making him a landing page at robertbellevents.com on a similar tech stack.
The transfer of minneapolisvietnamesefood.com to the restaurant's control went very smoothly.
I still have to make a proper Squarespace or Wix website, or build a proper Sanity CMS, so that the restaurant doesn't have to call me to get the landing page changed, but at least there's something on the internet that borrows a lot of the same SEO tricks that the original landing page did, and now it exists for $0/month.
Here's what they'd done: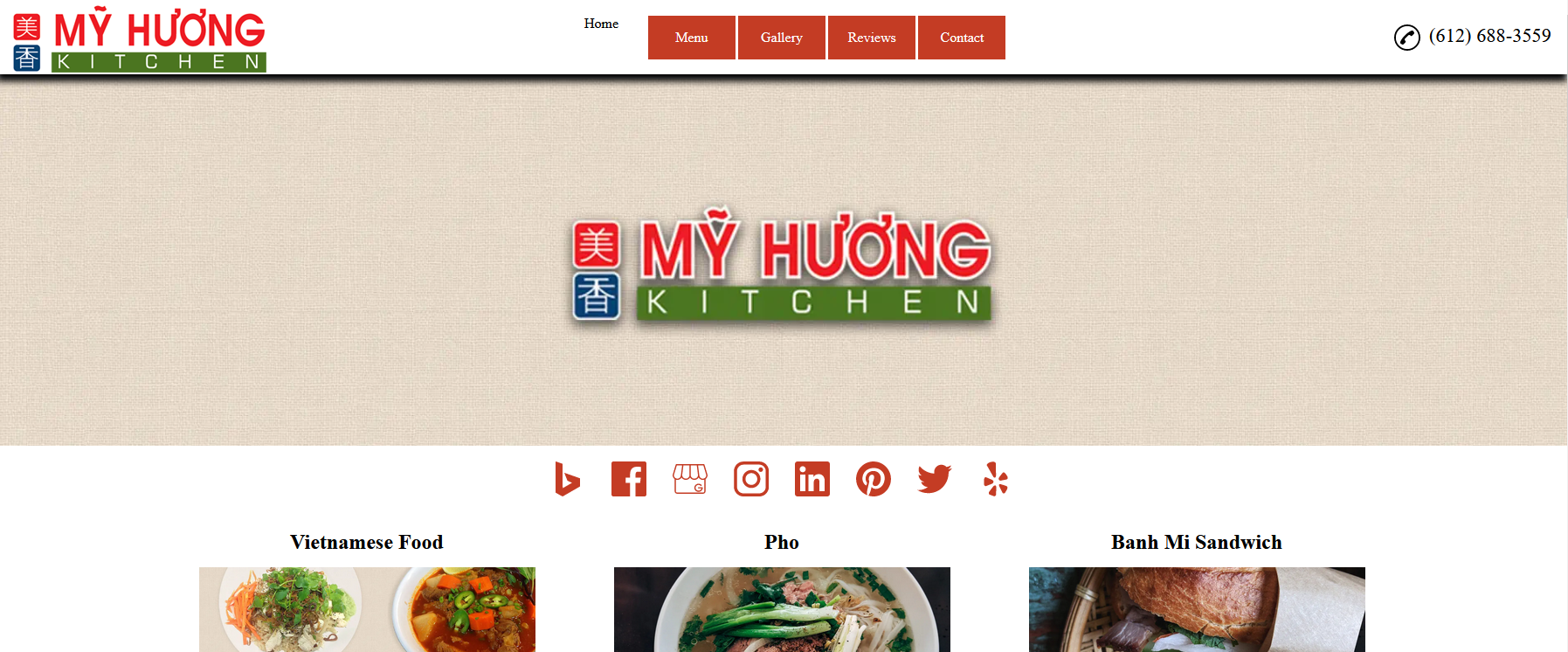 And here's what I did: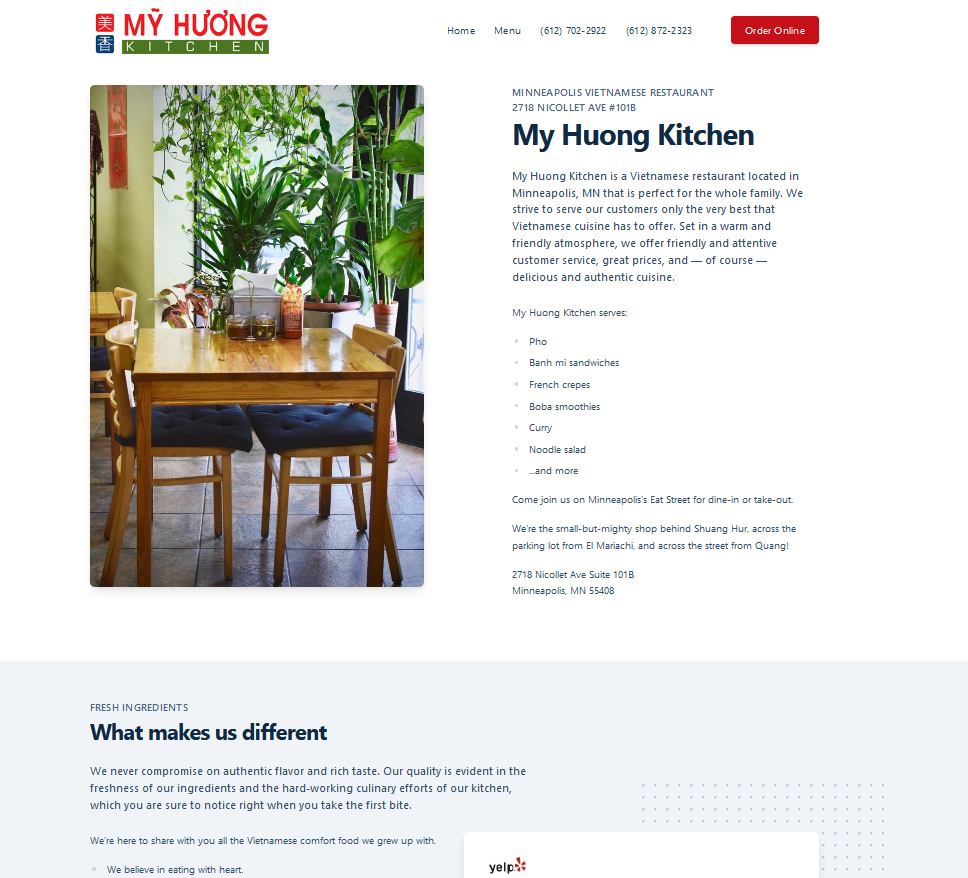 How'd I do, for a hobbyist web dev?
Google My Business
Steve audited all of the "online profile" listings that were in AdIQ's management portal and broke them down into 3 categories for me:
Ones they had created on behalf of the restaurant

I'm grateful that a company with actual customer service squatted these instead of someone more nefarious. 🤷

Ones the restaurant had created before they became customers, had never delegated management permission for, and that were merely listed in the self-service portal to ensure that they were included as outbound links in the footer of the landing page.
Ones the restaurant had created before they became customers and had delegated management ("optimization", in sales-speak) permissions for
Obviously, I wasn't thrilled that they had "interrupted" the restaurant's customer acquisition path with a replacement phone number and web site in GMB, but it was simple enough to change the details back once I was logged into GMB. They never tried to auto-change it back or anything.
Actions I took to clean up:
Steve transferred control to the restaurant.
No action needed.
I logged into these while working on behalf of the restaurant and un-delegated management permissions that were no longer needed (I had to re-elevate GMB privileges to "primary owner" for the restaurant – it'd been downgraded to ordinary "owner").
Google Ads
Part of the huge monthly fee includes taking out Google AdWords ads in ways that allegedly boost local rankings, using the previous 14 month's top-ranking search result keywords for the business. They call it "hyperlocal marketing."
I have no idea if they're doing a good job of directing ad traffic to their landing page, but based on the conversion rates I saw in the self-service portal … meh. At their prices, and at the lack of difference in foot traffic perceived in the brick-and-mortar, we decided it'd be best to try to just go without AdWords at all for a little while and see what happens.
Jeff from customer service went above and beyond by interrupting people from the ads team when they were in a meeting with some of my questions, and they pretty much taught me how to do their jobs:
What AdWords keywords they're taking out ads on (roughly)
How they chose/eliminated keywords
Which keywords are performing
How they decide a keyword is performing
Approximately how much they're spending on them, both per-keyword & overall
I feel very well-educated about Google AdWords basics. I'll watch Google Search Console insights for a couple of months in my spare time, and if rankings tank in response to me replacing their landing page with my own design, and if foot traffic tanks too (it should go up, this time of year in Minnesota), I feel pretty well-equipped to figure out a game plan that doesn't require having to re-subscribe.
Ads probably can't be completely ignored, but it'd be interesting to let them die for a little while (the restaurant's built a cult following for a decade w/o ads until last year). Besides, there are plenty of other marketing tricks beyond SEO that can help drive hungry mouths to an Eat Street restaurant with almost 5 stars on all review platforms and that gets featured in articles like "I ate 9 banh mi sandwiches in 5 days."
Cancellation
On my fourth call – this one to cancel – cancellation rep Jacob blew me away. When I held firm and insisted that we couldn't be persuaded to downgrade to a cheaper plan, he asked to see the replacement landing page I'd put on the internet and give it a proofread.
He ran its Lighthouse.
He looked at its source and noticed I'd accidentally left out the meta keywords.
He pointed out that I'd forgotten to hyperlink back to the main site, which could cannibalize traffic.
He literally just wanted My Huong Kitchen to be successful in their cancellation transition.
Conclusions
Personally, I feel like there has to be a more dollar-effective way to hire help with online presence for a tiny restaurant in a dense neighborhood than 3rd-party SEO services. (People know to go to Nicollet Ave. in Minneapolis for Vietnamese pho, banh mi, and bubble tea. I strongly suspect that success comes from hanging a shingle on Google Maps and letting reputation take it from there, like getting the word out that you make your boba with fresh fruit.)
It will always bother me that I feel like they took advantage of the pandemic decimating local businesses by cold-calling one and promising tons of feet in the door for a monthly sum.
(To be fair, Yelp totally does this too, and has scammy practices if – heaven forbid – you ever stop paying their ransom. But at least Yelp controls, well, Yelp … so you're getting something from your monthly bill that has no free alternative.)
Nevertheless, I cannot express better what a pleasure the people of AdIQ were to work with as I asked what the service was about, audited what they were doing, talked about the possibility of leaving, and finally, left. I got treated like I was talking to sales, only I was talking about cancellation.
If your local business is going to get hit by signing up after a confusing cold-call from a a rank-and-renter / social-squatter, pray that it's them, because at least you're forking over your precious income to people who care about their reputation and answer the phones.
And if the time comes that you need to leave, hopefully this diary has been a useful guide!
Support My Huong Kitchen
Again, please go eat/drink at My Huong Kitchen. It's not easy occupying a location that's difficult to see from a car during a pandemic when people haven't been casually strolling around in groups.

If you don't live in Minnesota or western Wisconsin, but know someone who does, or who sometimes travels to Minneapolis - St. Paul, please encourage them to explore the varied menu.

I don't get any sort of kickback if I drive them traffic (my "payment" in boba smoothies is already set in stone just for helping save money by throwing up the landing page) – I just really like the restaurant, and I'd give anything to know that this blog post brought enough additional revenue to cover the costs spent on a year of 3rd-party SEO services.

Dining or getting takeout from My Huong Kitchen is pretty much as close as you're going to get to going to the owners' house for a homemade dinner. It's really good, friends.

Be sure to tell them Katie sent you!

<! -- I could get really fun here by including a 2nd link to prev/next if it's not in your language but it has an alt that is. --> <! -- Also, I need to CSS-style these to float left and right, like paginators. -->

--- ---