04 Sep 2020 🔖 xml json yaml tutorials
💬 EN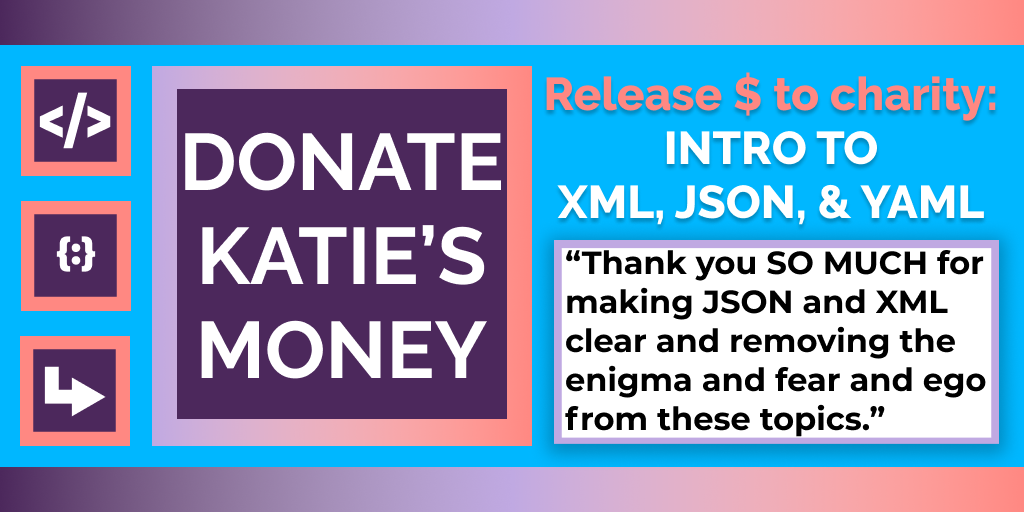 I wrote a book!
I'm honored by this lovely note from traditional sysadmin turned Salesforce admin + developer Kris:
"Thank you SO MUCH for making JSON and XML clear and removing the enigma and fear and ego from these topics."
Download or print your copy of Intro to XML, JSON, and YAML.
---
Gain confidence with 3 popular file formats on today's internet
Understand the difference
Read & write comfortably
Convert to CSV & Excel
No programming experience required
Despite being beloved by coders, XML, JSON, and YAML are data formats, not programming languages.
Any business analyst or project coordinator can become more effective by demystifying them.
While there're plenty of details to geek out on, this book is centered around the concepts you'll need to succeed. Preview here.
---
Read the book? Leave a note!
I truly want to hear what you do to practice XML, JSON, or YAML.
Please leave a note in the comments or Tweet me to let me know:
What project is bugging you that inspired you to grab the book
Which exercises you're going to do to build your skills
The results of any practice you completed (I'll be your celebration buddy!)
Projects you feel more confident to tackle
Anything else on your mind
---
Celebrating with teammates
This release is a team effort with a group of new friends from the Party Corgi Network, a lovely bunch of static web developers.
Corgi Joe Previte proposed that we join together for the 2 weeks leading up to September 4th to tackle Daniel Vassallo's 2-week $10 first-time info product challenge.
Here's some gossip from behind the curtain: it's been a lot of long nights for all of us. 😅
Over the course of the last 2 weeks, I learned how to:
Upload a product to PayHip
Design a book cover with Canva
Fail to save my work in Canva and lose all my design source files. (Don't all cloud services just save as you work these days?!)
Start over making art in Figma
Use Google Docs to get a prettier page template than Microsoft Word (thanks, Alex) … then end up importing everything to Microsoft Word for more granular control over page breaks.
Step 5 of Daniel's instructions are:
5: Promote it!

All the lessons are in #5. Best of luck!
As I watch my fellow corgis release their products, I'm already learning promotional takeaways from this challenge.
Joe wrote beautiful, useful "why you'd want to pay any attention to this" copy for his landing page.

I'm going to be honest: I'm not sure I can pull this off.
I'm a little tired after doing so much editing.
I thought I was going to just copy & paste the blog posts into Word for people who like printables, but it turned into a huge new thing with major improvements to the business context and flow of everything. Not to mention the YAML section.
I think my "writing brain" is fried. Having forgotten "step 5" of Daniel's instructions, I promised myself last week that "release day" would be the last day I'd give significant time and energy to coding & teaching projects.
The U.S. elections need me more. I'm an experienced phone banker + door knocker, and it's time to step up for my town, my state, and my country getting out the vote.
But dang, I want to hole up and learn to write a landing page like Joe. Nice job, Joe.

Joe kept the kind of "diary" text I'm writing here on Twitter.

I like it. Being rigorous about chronicling the journey, he gave people something fun to read while he worked.
I buried my head in Microsoft Word for two weeks and came up for air today. 😹
I presume I'll learn a lot more as the U.S. west coast wakes up and we all go live.
Teammates' products
---
Thanks
Many thanks to my new friends who kept me going during the challenge.

Thanks to you for checking out the book and letting me know all about the amazing things you build.

<! -- I could get really fun here by including a 2nd link to prev/next if it's not in your language but it has an alt that is. --> <! -- Also, I need to CSS-style these to float left and right, like paginators. -->

--- ---